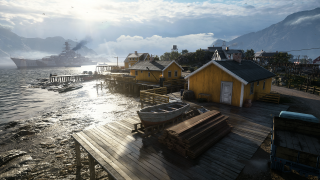 Hi everyone,
There's a lot to cover with this Letter from the Front. Let's start with . . .

The Current Status of Battlefield™ V*

Our recent launch of Chapter 4: Defying the Odds let us drop new maps, game tweaks, and in-game rewards – and evolving the game in this way is always a thrill for us. However, the deploy also introduced some issues to the overall quality of the experience. We've been hard at work to address these with several updates and will continue to do so until Battlefield V is where it should be. We're fully committed to expanding and improving our core multiplayer experience. That's why fixing the issues is our highest priority. This commitment will be met by keeping our focus and resources invested in producing the great content our players deserve.
Our next game update, 4.4, contains fixes for stuttering issues, desyncs seen on hitboxes, as well as some tweaks to the Commorose. The next few updates will improve game stability, UI communication around damage, and many other items the community flagged. 4.4 will also deliver two new infantry maps and an increase in max Rank. You'll now be able to go beyond Rank 50 and start earning XP on your new journey to Rank 500. You can read more about this feature here if you missed the news.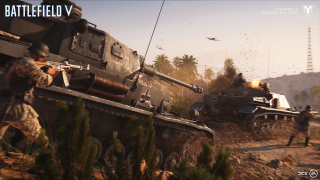 The Al Sundan Map and Other Updates
Seeing you deploy on the North African battlefield of Al Sundan has been great – and we know you're patiently waiting on the map on the larger modes. The map has not been available on all intended modes due to unwanted issues that came with Chapter 4, which unfortunately created an unusual graphical problem we haven't found a solve for yet. You can play on Al Sundan today on Squad Conquest and Team Deathmatch without that graphical problem, but we naturally want this map to function properly across all intended modes, such as Conquest, where this vast desert map really shines. The team is pushing to get the fix into our 4.6 release next month, but we can't confirm that just yet, as we first want to make sure the fix is working properly and won't create problems elsewhere, which has been the case with some past updates.
Provence and Lofoten Islands
Let's continue with our new full-tilt, infantry-only maps developed by DICE LA: Provence and Lofoten Islands. Specifically designed for fans of tighter and tactical combat, these battlefields will let you charge through alleyways in occupied France and deploy right into fast-paced combat across two Norwegian islands. The infantry-only design of the maps means several flanking opportunities, but beware the ambushes and chokepoints.
These maps will arrive in the 4.4 update and initially feature two modes – Squad Conquest and Team Deathmatch. This week at gamescom, members of the press, content creators, and Battlefield streamers are joining us in Cologne, Germany for a first look and hands-on with these maps, going live with their content that same week.

An Update on Competitive Battlefield V
The added focus on improving the quality of the experience and adding more of the content you want has led us to step back from our original plans to offer a competitive 5v5 mode. Not creating this mode was a tough decision, but vital for us to more quickly reach our bug-crushing and content goals. However, we will still pursue building a competitive gaming experience in Battlefield™. We know that there's already an existing competitive scene in our community, and we're helping build features to support these communities. We want to work more closely with our players to help improve the tools that they have available to shape their play experience. This way, we can better support the places where competitive Battlefield V play already exists.
This change in focus allows us to better deliver on our promise of new content that we know our players will love, as well as providing new ways to enjoy some of our more intense existing modes.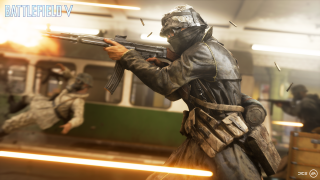 Reimagining a Classic Map – and Returning to the Pacific
In update 4.6 this September, we'll be delivering the Operation Underground map on Conquest, Team Deathmatch, Breakthrough, and Squad Conquest. Coming later with Tides of War for a limited time, Rush will be playable on the map, too. This is our reimagining of Operation Métro and it's something that we're having a ton of fun playing internally. It's being worked on by the map's original creator, and while it absolutely has the familiar spirit of Métro which long-time fans will enjoy, the gameplay feels really fresh.
We will then turn our attention to the Pacific, the return to Iwo Jima, and two more locations that you'll deploy on this side of the holidays. This is going to be a huge update for us, with new weapons, vehicles, factions, and visuals supporting the new maps coming with this Chapter.

Communicating More Often and with More Transparency

Improving the experience of the game is clearly important for us. How we communicate and how often are equally important. You'll see these "Letters from the Front" blogs on a monthly basis from now on. They'll give the more extensive updates on everything happening behind the curtains. Battlefield Community Managers Adam Freeman and Jeff Braddock will give updates far more frequently; daily and weekly. Our goal is to get into a more regular cadence of updates through channels like the in-game News section, the Battlefield V section on the Battlefield forums, or the Battlefield V subreddit where you can check in, inform yourself, and engage with us.
Until next time.

– Ryan McArthur, Senior Producer
Enter mankind's greatest conflict now with the Battlefield™ V Deluxe Edition or Standard Edition on Xbox One, PlayStation®4, and PC. Play the full game with Origin Access Premier or try it first for 10 hours with EA Access or Origin Access Basic**.
Sign up today to receive the latest Battlefield news, updates, behind-the-scenes content, exclusive offers, and more (including other EA news, products, events, and promotions) by email.

Follow Battlefield on Twitter and Instagram, like us on Facebook, and subscribe to our YouTube channel. Hop in and join the Battlefield Community on the Battlefield Forums, and discuss with us on Reddit and Discord.

This announcement may change as we listen to community feedback and continue developing and evolving our Live Service & Content. We will always strive to keep our community as informed as possible. For more information, please refer to EA's Online Service Updates at https://www.ea.com/service-updates.

*PERSISTENT INTERNET CONNECTION MAY BE REQUIRED TO PLAY.

**CONDITIONS, LIMITATIONS AND EXCLUSIONS APPLY. SEE ea.com/ea-access/terms AND origin.com/store/origin-access/terms FOR DETAILS.