Full of added experiences and Battlefield™ moments, Chapter 3: Trial by Fire has now entered its third week. Part of Chapter 3 is Firestorm, our unique mix of battle royale and classic Battlefield™ V* staples, where we've seen many close-call wins, heroic attempts, and hilarious tractor trickeries.

The Chapter 3 FAQ article tells all about Trial by Fire in general, but let's get a bit more specific and talk about the third Weekly Challenge, where the set of tasks have a nice, smoky Firestorm flavor. As always, you'll earn Chapter XP for each completed Weekly Challenge task, but the big reward lies at the final one.

This week, a completed final task will add the Firestorm-themed Fire Axe to your arsenal. The melee weapon in question will come in handy if you want a noise-free enemy takedown, or if ammo is low.

Let's look at the tasks. Remember that the exact mission requirements can be found in game in the Tides of War menu.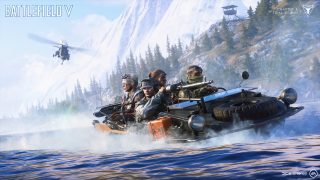 Two Kinds of People: Survive long enough in a Firestorm match.
Firestorm is ultimately a game of survival. Several strategies can be used for becoming part of the final group of players but playing it safe is usually wise. Try waiting a while before dropping and choose a less obvious landing spot. Loot may be scarcer in these areas, but you will, on the other hand, live to find more gear later in the round.

If it's Stupid but Works: Get a roadkill using a tractor.
It may be slow. It may be lacking offensive power. But the Firestorm tractor has charm – and driving it over enemies might be the most satisfying way to farm kills. Find it near fields, out in the wild, or call it in with a flare gun if you acquire one. Completing this task won't get you closer to the final one, but it will generate Chapter XP and a smile on your face.

Through Hell and Back: Win a round of Firestorm.
V is for Victory. To reach the ultimate goal of becoming the sole surviving squad or soldier in Firestorm will require a tactical sense, a steady aim, and a lucky break or two. When Halvøy's fiery ring is approaching the size of a hula hoop, thinking on your feet is crucial. Determine (or guess) enemy locations and quickly decide your next move. Stay hidden, engage, use that Artillery Strike you've been saving, or do whatever your gut tells you will secure the win.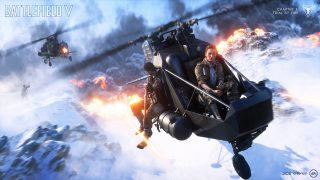 High Horse: Capture a set number of Objectives or Re-supply Points while in a vehicle.
As covered in our article on Firestorm Objectives, Firestorm contains many strategic areas of interest that can reward varying degrees of loot. Jump into a vehicle and secure the flags of Re-supply Points to clear this one. Keep the engine running – you may get company.

Survivalist: Earn a set score playing Firestorm.
You will be rewarded in Firestorm for simply staying alive long enough, but more risky actions give even more score. Get kills, capture Objectives, and stay active to reach the quota in this task.

Mean Streak: Kill a set number of enemies in one round of Firestorm.
The best defense is (often) a good offense. Taking out the enemy before they kill you may be the only way to ensure victory. Make sure to loot your fallen foes quickly before moving on.

Dead Eye: Kill a set number of enemies with headshots in one round of any game mode.
Headshots are the most efficient way of taking out the enemy. Deploy as the Recon class, equip a rifle you like, and locate some tactical high ground. Remember to hold your breath to steady your aim and make every bullet count.

Wrath: Down a set number of enemies in Firestorm.
Being downed in Firestorm is a near-death experience you or your enemy will enter after having received enough damage. In this task, you need to down a set number of foes. Be cautious though, downed enemies can still fight back with their sidearm and even be revived by a vindictive squad mate.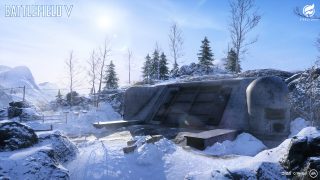 Treasure Hunt: Open a set number of vehicle lockups in Firestorm.
Exploring the stockpiles of equipment left behind by Sulis is not only the best way of equipping yourself, it also denies your enemies that equipment. Turn the handles outside the bunkers, survive the attention that this triggers, and enjoy the powerful tools inside.

The Hammer: As a squad, kill a set number of enemies using Sector Artillery, V-1, or JB-2 Reinforcements in any game mode.
Calling in a strike from above can turn the tide of the battle. In Firestorm, make sure your squad is not in the impact radius of your flying bombs, as the explosion doesn't discriminate friend from foe.

Avarice: Capture a set number of Resupply Points in Firestorm.
Capturing Resupply Points is the most reliable way of acquiring the rarest equipment – but also the riskiest as your progress is visible on the map to everyone. Watch your back and prepare to defend your position.

Not Time to Rest: Earn a set score in one round of Firestorm.
Stay active for this one. Capture Objectives, defeat enemies, and assist your squad to accumulate enough points. Your reward will be Chapter XP and access to the final task.

None Left Behind: Revive, or be revived by, squad mates a set number of times in any game mode.
Keeping your squad on its feet is essential to your survival. All squad mates have the ability to revive but when you're choosing a class, bear in mind that Medics do it faster. Pursue this heroic act enough times, and you can consider yourself the lucky owner of a cutting-edge piece of military hardware: The Fire Axe melee weapon.

All in all, this week brings even more reasons to face the flames of Halvøy. Knowledge is power, so master our take on battle royale by reading up on rules, weapons, vehicles, Objectives, and more on the Firestorm page. Stay cool in the heat.

– Jonas Elfving

Enter mankind's greatest conflict now with the Battlefield™ V Deluxe Edition or Standard Edition on Xbox One, PlayStation®4, and PC. Play the full game with Origin Access Premier or try it first for 10 hours with EA Access or Origin Access Basic**.

Sign up today to receive the latest Battlefield news, updates, behind-the-scenes content, exclusive offers, and more (including other EA news, products, events, and promotions) by email.

Follow Battlefield on Twitter and Instagram, like us on Facebook, and subscribe to our YouTube channel. Hop in and join the Battlefield Community on the Battlefield Forums, and discuss with us on Reddit and Discord.

*PERSISTENT INTERNET CONNECTION MAY BE REQUIRED TO PLAY.

**CONDITIONS, LIMITATIONS AND EXCLUSIONS APPLY. SEE ea.com/ea-access/terms AND origin.com/store/origin-access/terms FOR DETAILS.