On March 25, Battlefield™ V* brings its style of team-based strategy to battle royale with Objectives and Reinforcements in Firestorm. There are five types of Objectives to compete for, either alone or as a squad, each with a higher risk than the last. Secure these, unlock the most valuable loot, and increase your odds of becoming the last one standing.

Below, we'll look at the Objective types and follow up with all the Reinforcements. Check out our Firestorm overview if you need to catch up on the basics.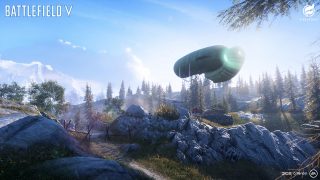 Firestorm Objectives

Objectives in Firestorm are strategic objects and areas of interest that can reward varying degrees of loot. Some are easily found and quickly looted, while others, such as Re-supply Points and Vehicle Lockups, require teamwork and cunning to secure. The latter operate like the capture points in Battlefield V's main multiplayer, where soldiers will scrap with other teams for control of an Objective. Fend off fend off other would-be capturers to gain the spoils within, like a tank or fully decked-out weapons.

Objectives can also be secured alone when playing Firestorm solo. Read more about the types of loot you'll find in our weapons and gadgets breakdown, as well as our vehicle overview.

Strongboxes

Players can depend on Strongboxes, secure wooden crates, as a good source of weapons, gadgets, and healing items when on the run. Strongboxes appear at random on fixed locations, typically in and around Halvøy's landmarks.

They reward up to three items at either the Common, Rare, or Epic tier. The scramble for Strongboxes is not as ravenous as the bigger Objectives, but they're still a desirable target.

Safes

Plenty of combination lock Safes can be found inside the peninsula's landmarks. Without interruption, they can be cracked open in seconds and spawn high-value loot. It's best to have a buddy watch your back if you can, as enemy soldiers will be combing through landmarks to open the Safes before you do.

Like Strongboxes, these appear at random on fixed areas. They will not appear on the mini-map or HUD.

Supply Drops

Over the course of a Firestorm match, players can depend on random Supply Drops from the great plane in the sky to secure gear that's eluded them or to replenish their inventory after a prolonged firefight.

Green is the color of the flare that signals players to the location of a Supply Drop, popped shortly after it hits the ground. Supply Drops contain rare and powerful loot – you will not be alone when going after them.
Re-supply Points

As you run like hell from the Firestorm, Re-supply Point Objectives will activate within the playable boundary. Think of these as the Flags in Battlefield V's Conquest mode. Capture these, as a squad or solo, for an opportunity at the Epic tier loot secured within. You'll need to weigh the odds of a successful capture given your position, loadout, and the likely swarm of soldiers headed your way.

Supply Points are contested areas marked by the hovering olive drab kite balloons that rise once they become capturable. All players will be notified on the map once they are active, and their direction will be pinged on the in-game compass. Soldiers will be able to see the capture status of the point in the UI.
There are more than 20 possible Re-supply Points that become active at random.
You must hold one of these points against contesting foes to unlock the randomized Rare and Epic loot stored in the nearby supply crates.
Areas can be captured more quickly when there are more soldiers of the same squad on a point.
Any soldier can contest the point.
Supply Points can still be capped within the Firestorm, but players will take damage.
They can be captured solo.
Available Supply points reset once the shrinking play space reaches the next safe boundary.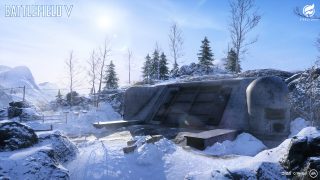 Vehicle Lockup

Half doomsday bunker, half military motor pool, Vehicle Lockups are strategically placed structures that when opened unleash Firestorm's combat juggernauts upon Halvoy. These bunkers house the best stuff – such as the Churchill or Panzer IV tank, Epic tier weapons and gadgets – and are the most sought-after Objectives.

Mostly found embedded within landmarks, a Vehicle Lockup is only accessible through teamwork or fast-acting solo play. In squads, these sites can be opened by having two players interact with a mechanism on either side of the structure's doors. A solo player can open a Lockup, but they'll have to turn one lever at a time.

Once the dials start moving, an alarm will sound alerting everyone in the vicinity that a Lockup is opening. Players can stop opening the bunker and quiet the alarm at any time if they get spooked and want to check the area.

Open the doors, discover your prize, and prepare for the fight of your life – otherwise it's good bye blue sky.

The Reinforcements Found in Objectives

Battlefield V's Reinforcements, back up armaments or supplies that can strengthen a player's position, have made their way to Firestorm, now packed into a collection of specific flare guns secured across Halvøy.

Below are the different types of Reinforcements you can call in based on the random flare gun collected by securing the above Objectives, with a much higher chance of finding them from Re-supply points. They are almost never found in the open and do not require Requisition points to use, although some coordination is encouraged.
Supply drop – Need gear in an instant and on your terms? Fire this flare gun type to signal a supply drop full of goods that you or your squad can scavenge.
Vehicle drop – Combat and transport vehicles will parachute down where you fire this flare gun and help your team escape the ring of fire or quickly reach other areas of Halvøy.
Artillery Strike – This Reinforcement deals with hordes of enemies and levels buildings by bombarding a large area with explosives.
V-1 Rocket – Maybe you prefer precision. Call in this tactical flying bomb to wipe out or knock down anyone in its direct, sweeping explosion.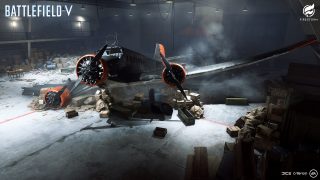 Launch is Just the Spark

Firestorm will expand after launch, with new features and improvements coming to all Battlefield V players as part of Tides of War, including an initial introduction of a Duos mode in April as part of Chapter 3: Trial by Fire.

– Jeff Landa (Follow Jeff on Twitter @JeffLanda)

Enter mankind's greatest conflict now with the Battlefield™ V Deluxe Edition or Standard Edition on Xbox One, PlayStation®4, and PC. Play the full game with Origin Access Premier or try it first for 10 hours with EA Access or Origin Access Basic**.

Sign up today to receive the latest Battlefield news, updates, behind-the-scenes content, exclusive offers, and more (including other EA news, products, events, and promotions) by email.

Follow Battlefield on Twitter and Instagram, like us on Facebook, and subscribe to our YouTube channel. Hop in and join the Battlefield Community on the Battlefield Forums, and discuss with us on Reddit and Discord.

*PERSISTENT INTERNET CONNECTION MAY BE REQUIRED TO PLAY

**CONDITIONS, LIMITATIONS AND EXCLUSIONS APPLY. SEE ea.com/ea-access/terms AND origin.com/store/origin-access/terms FOR DETAILS.