Head to the Firestorm page for the latest on battle royale, reimagined for Battlefield.
Today we are dropping knowledge bombs on Firestorm, the battle royale mode coming to Battlefield™ V with a unique focus on iconic Battlefield™ squad play and vehicular combat. We're also revealing a new Battlefield V pre-order offer that includes the special Firestorm Ranger Set, inspired by (but not limited to) the mode.*
Developed by Criterion Games in partnership with DICE, Firestorm elevates battle royale by bringing in the best of what Battlefield is known for. Mix a shrinking playing field with trademark Battlefield elements such as team play, powerful vehicles, and destruction, and you get battle royale so intense it'll make your lips curl.
Expect even more details on Firestorm to come as we head closer to launch, but here's a quick primer:
Wage war in a ring of fire that slowly shrinks the battlefield – don't get trapped
Fight to be the last infantry squad standing of 64 players in 16 squads
The game-changing addition of Battlefield vehicles lets you wipe out unsuspecting squads with a tank or drive to survive with transport vehicles
Work together as a squad to secure objectives that grant better and rare gear
Clash on the biggest Battlefield map to date
Transform the map with Destruction
Feel battle royale brought to life with stunning Battlefield graphics and audio
Matches are tied to your Company and Battlefield V progression
Battle Royale is a Burning Thing, and it Makes a Fiery Ring
From the moment you fall, down, down, down, from the sky, to when your boots hit the ground on the largest Battlefield map ever created – the encircling ring of fire presses in on you and your squad in an all-out war for survival among 16 squads of up to four players.
Firestorm Objectives
There will be several types of Objectives in a Firestorm match. These will operate similar to those found in the iconic Conquest mode, except some will be found at fixed locations and some at random, with varying types of supplies, weapons, and vehicles. Work with your squad to play the Objectives and unlock the most valuable gear to increase your chances at being the last ones standing.
The Largest Battlefield Map Ever
You and your squad must rewrite the definition of squad play on a massive Battlefield map. With no weapon loadout to start with, you'll need to loot equipment scattered throughout the map. Securing Objectives and controlling key landmarks will define most confrontations, but how you and your squad get there – and how well equipped you are when you do – will never be the same.
Command Devastating Vehicles
In Firestorm, combat vehicles like the powerful Panzer tank have now entered the battle royale fray. Getting hold of a tank can give you a great edge, but you won't be invincible – and you need to measure risk versus reward if you challenge other squads to secure the battlefield's most fearsome hardware. Jumping into a transport vehicle will give your squad an edge in speed and power. If you find something with wheels, you can drive it into battle – or plot a quick escape.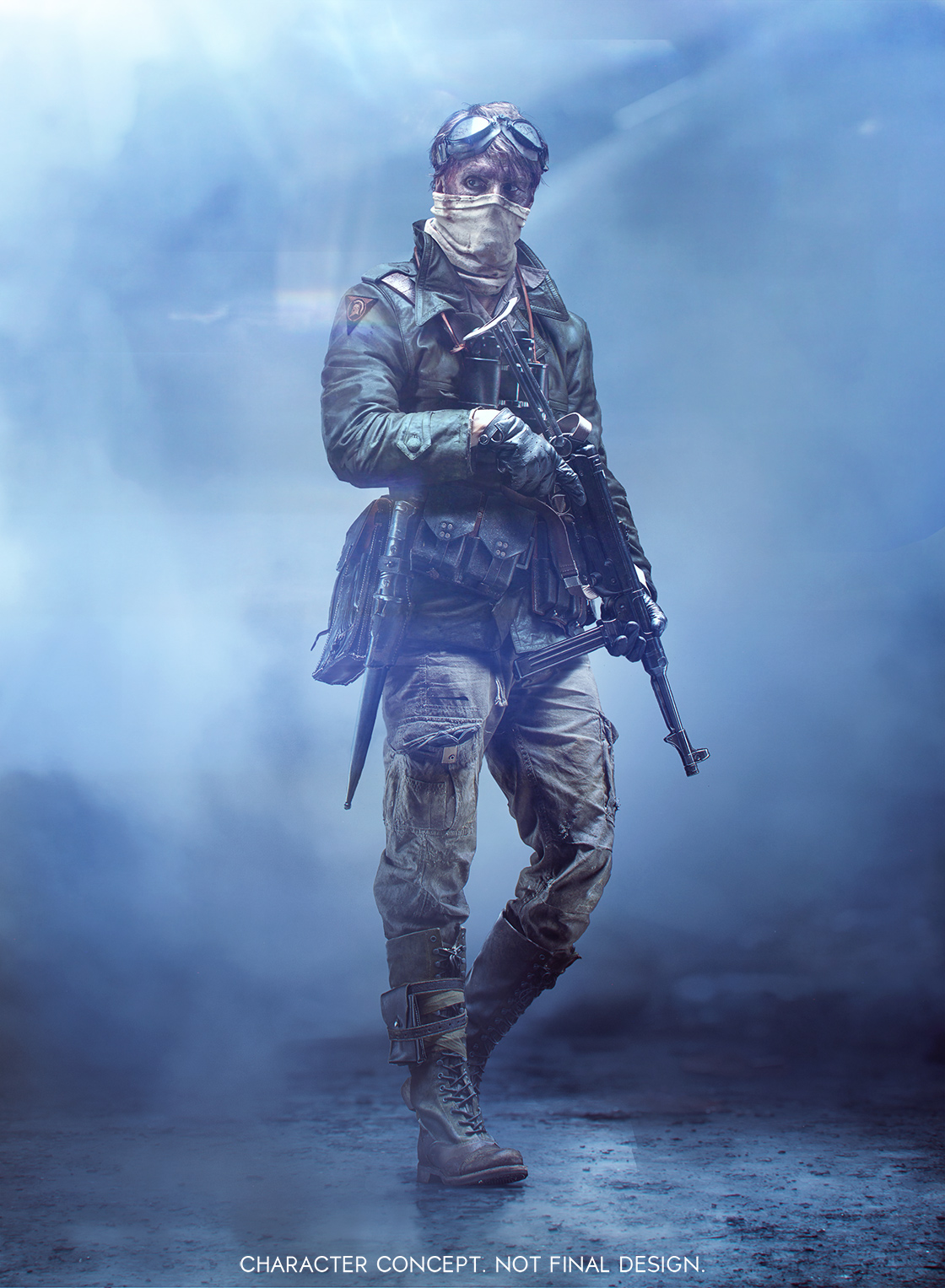 Pre-Order Bonus: Firestorm Ranger Set
Drop in to the battlefield with a unique tactical loadout by getting the Firestorm Ranger Set and its goggles, light battle fatigues, and MKIII(S) Elite Combat Dagger – the weapon for all encounters as you fight for survival. This set is a bonus for pre-ordering Battlefield V and although inspired by Firestorm, it will be usable by players across Battlefield V.
Battlefield V Deluxe Edition
For players that want to enter Battlefield V early and with more outfits, customization items, and Special Assignments, there is the Battlefield V Deluxe Edition. A pre-order gets you the above, plus:
Early Access to Battlefield V Base Game: Be among the first to dictate the fight and play the Battlefield V base game.
Five Sets of Paratrooper Outfits: Choose Special Soldier Sets from the eight available when deploying as the British Special Air Service or German Airborne troops.
Special Assignments: Get rolling with Assignments inspired by the British Special Air Service's true-to-life raids on German air bases, and ones based on the defense of airfields on the North African coastline by the German Fallschirmjäger troops, as well as Starter Assignments providing more ways to test your skills on the battlefield and earn rewards.
20 Weekly Items with Airlift: Receive vital supplies with 20 weekly Airlifts, each containing one customization item.
– Jeff Landa, Jonas Elfving

Prepare for deployment – pre-order Battlefield V

Enter mankind's greatest conflict on Xbox One, PlayStation®4, and PC. On November 9, play the full game with Origin Access Premier or try it as part of the EA Access and Origin Access Play First Trials**. Or, join the fight on November 15 with Battlefield™ V Deluxe Edition early enlister access, or November 20 with the Battlefield™ V Standard Edition.

Sign up today to receive the latest Battlefield news, updates, behind-the-scenes content, exclusive offers, and more (including other EA news, products, events, and promotions) by email.

Check out the Battlefield Forums, follow us on Twitter and Instagram, like us on Facebook, and subscribe to our YouTube channel.

*Conditions and restrictions apply. See https://www.battlefield.com/disclaimers
**CONDITIONS, LIMITATIONS AND EXCLUSIONS APPLY. SEE ea.com/ea-access/terms AND origin.com/store/origin-access/terms FOR DETAILS.